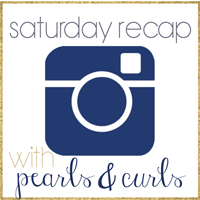 It's that time of the week again! Saturday Instagram recap with good ol' Pearls.



Wedding invitations are starting to flow in!



Derik and I had our own bottles of wine for dinner. No shame.



Sleepy time tea and the book I've been trying to read for 6 months lol



Starting to test drive cars!



Date night :)



Hanging with Pearls 223 miles away!

Haven't followed me on Instagram yet? You totally should. What did your week on insta look like? Go link up with Sara and flaunt your stuff!

-xoxo Tiff